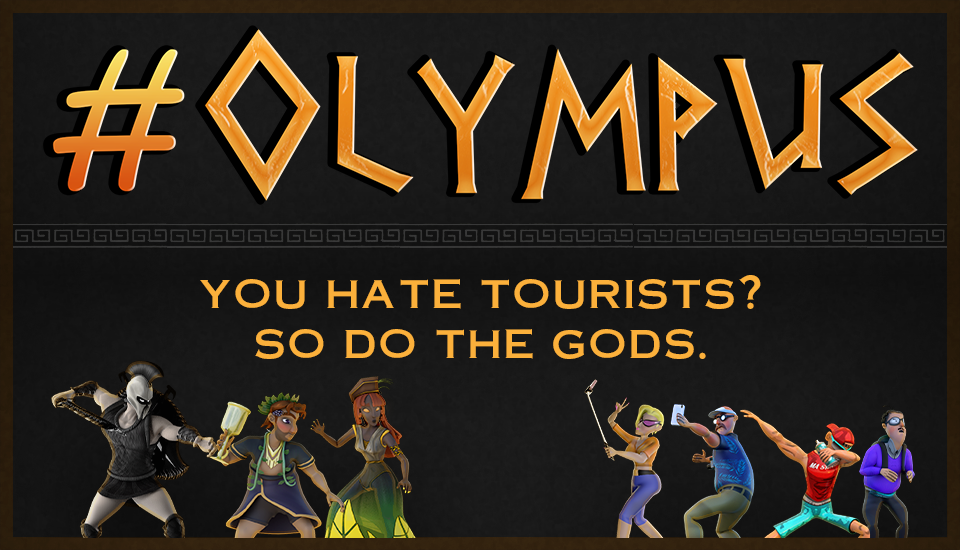 #Olympus
A downloadable game for Windows and macOS
About:
#Olympus is a Tower Defense / RTS game where you get to play as your favourite Greek gods to defend Olympus from an onslaught of bumbling tourists. Why? Because the gods hate tourists.
In an attempt to bring back respect to Olympus, the gods must defend their ancient monument sites from becoming defaced and overrun by various tourist types including Jocks, Influencers and Nerds! Survive the waves of tourists until the end and keep an eye on your monuments, or you may stand to lose Olympus itself!
Genre: A mixture of RTS (real-time strategy) and Tower Defense.

Characters:
To defend Olympus you can currently play as 3 different gods, each with their own fighting styles and abilities. Our roster includes:
Ares - a melee fighter who gets hands-on with the enemy. With every bit of damage he takes, he grows more angry and reckless with his attacks.
Dionysus - a support-type god who doesn't hit very hard and can't take much of a beating, but their ability to draw large crowds of enemies away from the main path is incredibly powerful.
Demeter- a god who doesn't care much for fighting tourists directly, but can instead harness the power of the seasons to target monuments and structures instead. She is able to switch between two different forms: Summer - which focuses on healing and defending structures, and Winter - which is more aggressive and focuses on destroying enemy structures.
Controls:


Credits:
Customizable Skybox Shader by Key Mouse
Clouds by Unity
'52 Special Effects Pack' Particle Pack
Cartoon FX Free Particle Pack Animations using Mixamo
BGM: 'Autumn Forest' by Adrian von Ziegler
Team:
"Pixel Peeps" (The Pixel Mill 2020-2021 Bootcamp Dev Team)
Artists:
Mia McMorrow
Michael Sloan
Nadine Rose McLaughlin
Patrick Sloan
Rachel Gandey-Johnson
Developers:
Bekah Logan
Daniel Gould
Mat Wylie
Niall McCoy
Ricky Taylor
Special Thanks:
Rory Clifford
Juan Gabriel Gomila Salas
Alistair Mountain
This game has been created as a 5-week game development project funded by Northern Ireland Screen.
Note: macOS Catalina not currently supported
| | |
| --- | --- |
| Status | Released |
| Platforms | Windows, macOS |
| Authors | Pixel Peeps, Mat Wylie, Niall McCoy, hollowtaylor, Rose673, Daniel Gould, patricksloan, Michael_Sloan, Rachel Gandey-Johnson, nadinerosem, burmabright |
| Genre | Strategy |
| Made with | Blender, Adobe Photoshop, Unity, Substance Painter & designer, Maya |
| Tags | 3D, gods, greek, Low-poly, Real time strategy, Singleplayer, Tactical, Top-Down, Tower Defense, Unity |
| Average session | A few minutes |
| Languages | English |
| Inputs | Keyboard, Mouse |